Christian Planners provide moms an organizational resource and encouragement in their faith. This Christian planner review will help you find the best faith planner for you.
What is a Christian Planner?
A Christian Planner is a planner for women that want to make their faith a priority every day. Many faith planners provide daily Bible readings, space for a prayer journal/prayer requests, and Bible verses to memorize.
How to Choose a Christian Planner?
A Christian planner includes standard planning for monthly, weekly or daily activities and additional pages designed to help you focus on your faith. These pages might include Bible reading recommendations, Bible journaling and prayer journaling pages.
Many faith planners include a daily or weekly Bible verse to study or memorize. If memorizing scripture is important, you will want a planner that includes a weekly Bible verse.
As you look at the different Christian planners, ask yourself which one will encourage you in your faith and also help you organize your day and week.
Writing and reflection are important with Christian planners. If you like writing, a daily planner with plenty of pages for writing and journaling might be what you prefer. If you aren't a writer, maybe a weekly layout is better where you can bullet point daily prayer requests.
Best Christian Planners for Women
The faith planners for women emphasize encourage Bible study and prayer habits. You will love the beautiful designs of these Christian planners.
The Hope Planner helps women make daily Bible reading and prayer a priority with space designed for you to write daily Bible verses and prayer requests and praises.
Reasons You'll Love It
Daily and Weekly formats available
Designed for you to focus on your quiet time with prayer and Bible reading
Beautifully designed pages for daily scheduling/planning
Undated so you can start using it anytime
Best daily planner for journaling and reflection
Size: 9″ x 8″
A beautifully designed planner that allows you to focus your day and journal. If you like to journal your daily Bible study insights, you'll love this planner.
Learn more about the Hope Planner here.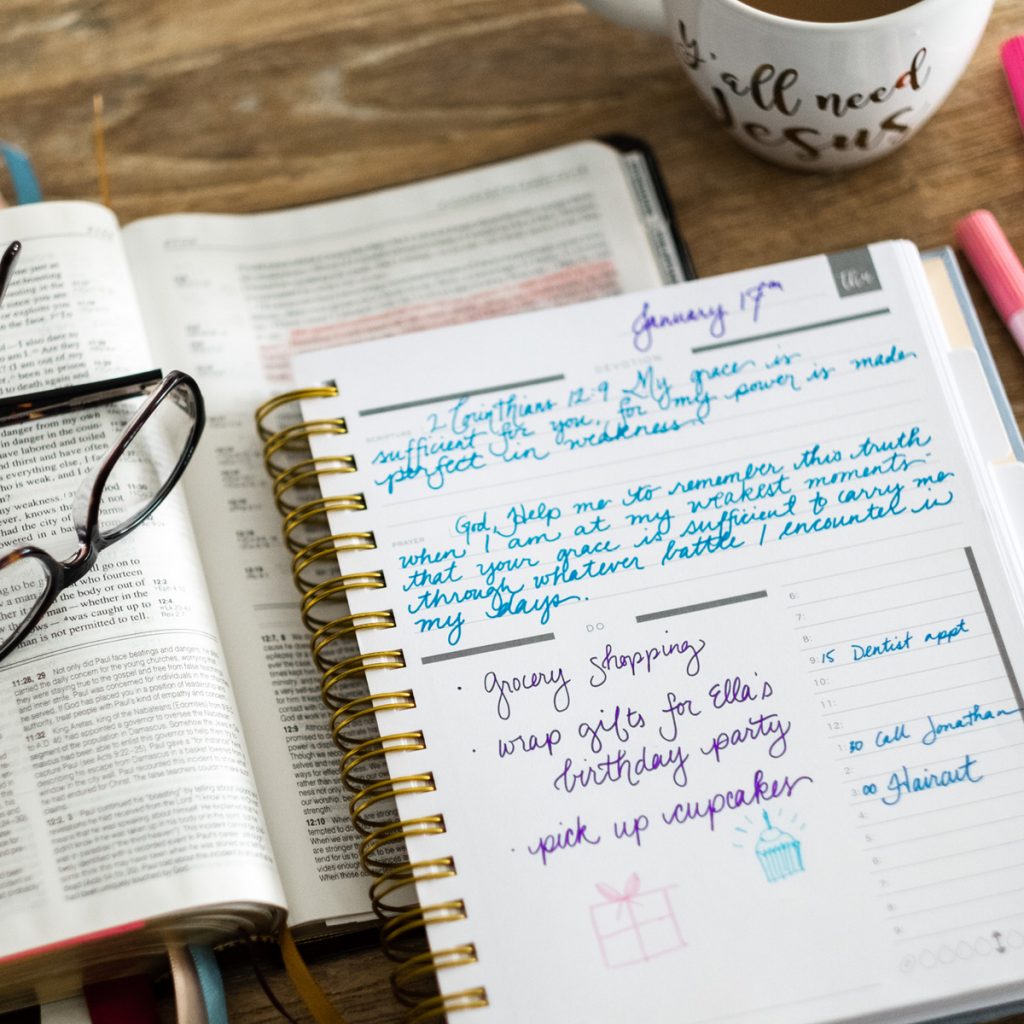 2. DaySpring Agenda Planners
The DaySpring Agenda Planners are beautifully designed planners for women in weekly formats.
Reasons You'll Love It
Weekly layouts with multiple different layouts
Monthly devotionals in the InStudio, Candance Cameron Bure and (in)Courage designs
Lays flat for easy writing, beautiful, bright colors throughout
Decorating stickers and 2-sided pocket
18 Month Planners – New planners now available for July 2021-December 2022
Weekly or monthly Bible verse to memorize or encourage you
Size: 8 7/8″ X 9 7/8″
DaySpring has several different planner designs and layouts.
Learn more about the DaySpring Agenda Planners for women.
---
Recommend for you: Is the Erin Condren Teacher Planner Right for Homeschooling?
---
The Christian Planner provides a beautiful layout to plan your week and focus on your faith with journaling pages and habit tracking.
Reasons You'll Love It
Weekly layouts with habit trackers
Weekly sermon notes
Dedicated pages for devotions and Bible reflection each week
Lays flat for easy writing, 5 bright colors to choose, thick paper
2 Bookmarks, space for notes or being creative, back pocket
Size: 7″ x 10″
Click here to read more about the Christian Planner.
The Christian Daily Planner is perfect for moms that want a complete organization system with meal planning pages, shopping lists, travel checklists and more.
Reasons You'll Love It
Monthly and weekly pages with a daily focus section
Weekly service notes and prayer journal
Bible reading log to track your progress
Perforated pages for shopping lists, meal planning, gardening, travel checklist, food and exercise
Thick paper, pen holder, elastic strap to keep it closed, useful back pocket and more…
Size: 7″x10″
Click here to check to check out the Christian Daily Planner.
The Ultimate Weekly Planner is a minimalist planner with a lovely layout and design. You will love the watercolor art cover and inside pages. I love the beautiful new cover designs for 2022.
Reasons You'll Love It
Monthly and weekly planning pages (weekly planning in horizontal layout only), minimalist design
Extra note pages for journaling and sermon notes
A weekly Bible verse to memorize
Beautiful water color cover and monthly encouraging Bible verses
Thick paper and sturdy cover
Size: 6″x 8″
I'm so impressed how every year the cover design and artwork in this planner are prettier with each new year. My favorite is the Gratitude design this year.
Click here to check out The Ultimate Weekly Planner.
The Faith Planner is a minimalist design planner that's an all-in-one Christian planner, journal, devotional, and habit tracker.
I really love the weekly Sunday spread in this planner. You can track sermon notes and insights, and you also have space to plan how you can make an impact for Jesus in the next week with short reflection questions.
Reasons You'll Love It
Monthly and weekly planning pages
Weekly Sunday spread with space for sermon notes, weekly Bible verse, and reflection questions
Hard bound, lay flat design, it's 6″ x 8″ so it's easy to carry or keep in your purse or tote
Click here to see the Faith Planner.
The Divine Faith Planner is a colorful planner that will help you be more intentional, more focused on faith, family, and serving others.
Reasons why you'll love it:
Beautiful design and page layouts
Grow in Grace – yearly review and focus, vision board and prayers
Year at a glance for goal planning and focus; quarterly goal planning
Monthly devotional and Bible coloring for your creative side
Quotes and verses for each quarter
Quarterly goal setting pages
Review and define progress with monthly, quarterly and yearly Wrap-ups
Size: 7.5″ X 9.5″ perfect for desk and on-the-go
I love the layouts and design of this planner.
See this planner for yourself here at Divine Faith Planner.
Which Christian planner do you like best? What do you like included in your faith planner?
PIN IT FOR LATER: