As you start looking for a new homeschool planner, the 2022-2023 Erin Condren Teacher Planner should be on your list to review. Having a good planner will make your homeschool life much easier. Here are 5 reasons the Erin Condren Teacher Planner is worth your consideration.
Note: This post includes affiliate links. If you make a purchase, I may receive a commission at no additional cost to you. Read my full disclosure policy here.
Complete Organizing System
As a homeschool mom, you need weekly planning pages for assignments for each child. The pages in the Erin Condren Teacher Planner are well-designed for homeschool moms. As you can see in the image below, on the left you have the date/days listed vertically and across the top, there are 6 open spaces for either your children's names or subjects.
This layout is perfect for high schoolers. Each of my high schoolers have a Erin Condren Teacher Planner. We write subjects across the top and assignments for each day. It's a great way to keep high schoolers organized.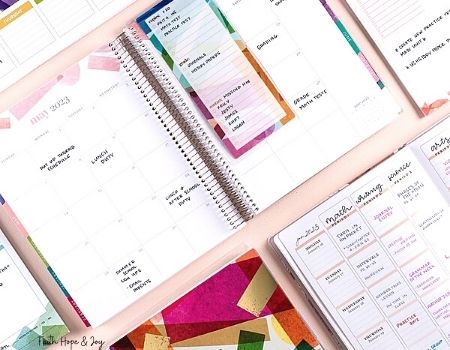 I love how these pages have large boxes for each day/subject. These boxes give you plenty of space to write down all your lesson plans and activities for each day.
Organizing Tools Homeschool Moms Need
This planner comes with organizing tools you will use every day. Here are the organizing resources included:
A snap-in ruler (that also works like a bookmark) in the coiled planner
Sturdy double-sided pocket for papers and documents you use frequently
Clear sheet protector (great for checklists)
Multiple pages of checklists that can be used for attendance checks or project completion
Several pages of colorful stickers (coiled and binder formats)
The handy snap-in ruler has several uses. It's a great bookmaker so your planner will always open to the right page, but it's also available when you need to draw straight lines and measure during math lessons.
The colorful double-sided pocket keeps papers you are grading organized, teaching aids, notes, and more all in one place. It's also good for your kids to keep their papers and assignments in their agenda.
Clear page protectors are great for checklists or memory pages like multiplication table charts and sight words that are used frequently (coiled and binder planner only).
Last, this planner includes multiple pages of student checklists. The checklists could be used in many different ways like book reading lists, daily attendance, organizing clubs or volunteer activities, and a grade book.
Customizations to make this planner uniquely you
Make the Erin Condren Teacher Planner a resource you love with customizations.
Your first choice is the format – do you want the coiled (very popular) planner, 3-Ring binder or softbound format? My favorite is the coiled format. With the binder format, it's a 2.5″ binder that has plenty of space for your planner and to add the additional pages you use every day.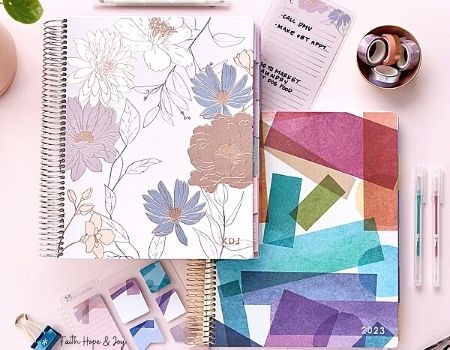 Next, you can customize your cover by choosing from different designs for the coiled planner, 2 designs for the softbound planner, or the 3-ring binder (one design). Personalization is available, too. You can add your name, the year, or a short quote.
The interior pages of this planner are bright and cheerful in Harmony Colorful or In Bloom. In Bloom is a more neutral layout. No matter which interior you choose you will be inspired every day as you open this planner.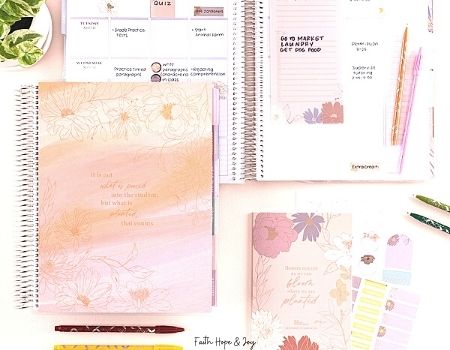 Don't forget the stickers! Add your favorite stickers each week to highlight dates and activities. Stickers are included with the Coil bound and 3-Ring binder planners.
Extra Planning Pages
Erin Condren Teacher Planner is filled with additional planning pages so you will always be able to write down your ideas and plans.
First, you will be able to plan each month on a 2-page spread for notes and planning as the month begins. These pages are great for monthly projects and monthly goals for each child. At the bottom of the right page, you will also find space for important dates each month like Homeschool group meetings and field trips.
For big picture planning, you can use the month at a glance for planning pages. Monthly planning pages give you space to mark your holidays, homeschool group meetings, field trips, sports activities, and more in one place.
At the beginning of the planner, you will find the 12-month planning section perfect for big-picture planning assignments and reports, goal setting for each child, read alouds, and more. These pages go from January to December (while the planner runs with the school year – July to June).
Last, the 18-month at-a-glance pages are useful for long-range planning and quickly marking grading periods, no school days, vacation time, and more with this full school year calendar.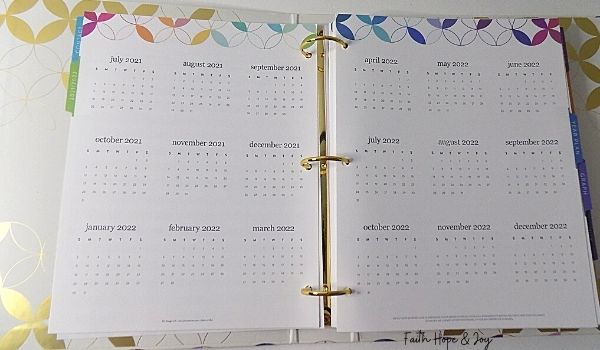 Sturdy Enough to last the entire year
Erin Condren Teacher Planner is a durable planner made to last the entire school year.
The laminated cover on the coiled planner is made to last (plus the covers are also interchangeable if you have a planner from a previous year or you can buy additional covers). The 3-Ring binder and softbound covers are also sturdy and will protect the interior pages.
The interior paper is strong and thick. When you write on these pages, your ink won't bleed through.
This planner will last all year – even with heavy use.
Is the Erin Condren Planner Teacher Planner Worth it for Homeschool Moms?
Absolutely, yes! I love really love this planner. I'm disappointed I have to wait until July to start using it.
Erin Condren Teacher Planner gives homeschool moms a unique planner to plan your school year with well-designed weekly layouts, organizing resources, extra planning pages, and it's a sturdy planner made to survive your family. Plus, it's filled with colorful and exciting stickers to help you personalize your planner.
As you write your lesson plans you will look forward to opening your planner, writing weekly assignments, getting organized, and focusing on doing what you love most – teaching and learning with your children.
Don't forget your favorite Erin Condren Accessories
Of course, what planner would be complete without accessories. Here are a few of my favorite accessories for your Erin Condren Teacher Planner.
Brighten your planner with the Too Cool for School Sticker book, edition 6. This sticker book has extra stickers you will love adding to your planner that make it colorful and highlight special days and even make your own notes.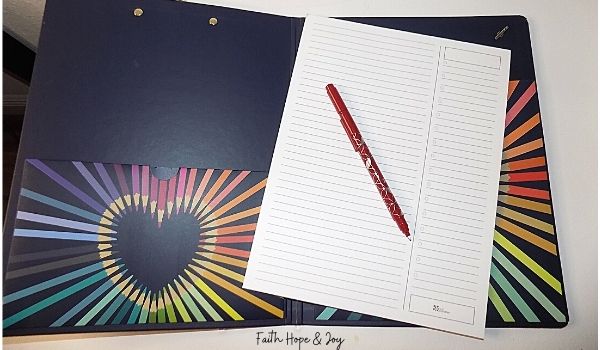 Don't forget your dashboards, which are removable snap-in pages for checklists and daily to-do's. The teacher dashboards include either a weekly plan for daily priorities and a before and after school to-do list or the quick daily to-do checklist teacher dashboard. These washable dashboards are great for at-a-glance tasks and bookmarking pages in your planner.
Click here to see the Erin Condren Teacher Planner.