What is the true meaning of Christmas?

Have you ever wondered what is Christmas all about?
Jesus brings meaning to Christmas. Without Jesus, Christmas has no hope. Without Jesus, Christmas has no joy. Without Jesus, we lose the purpose of Christmas. By keeping Christ in Christmas, we can focus on the true meaning of Christmas.
With no Christ in Christmas, we would have no Christmas carols announcing the joy to the world only Jesus would bring.

With no Christ in Christmas, we have no hope of peace on earth only a world filled with darkness.

With no Christ in Christmas, we have no good news to share.
With no Christ in Christmas, Christmas has no meaning. Here are 10 Christian Christmas traditions to keep Christ in Christmas.
---

For centuries the world waited and anticipated a Savior, and on a quiet and unexpected night in Bethlehem, that Jesus was born. Each Christmas, we celebrate this baby, his birth, his life, and the light he brought a dark world.
10 Christmas Traditions to Keep Christ in Christmas
The simple meaning of Christmas is to share the story of Jesus. These Christian Christmas traditions remind us of the first Christmas and help us keep Christ in Christmas.


For your convenience, this post may include affiliate links; if you make a purchase, I may receive a small commission at no additional cost to you. Read my full disclosure policy here.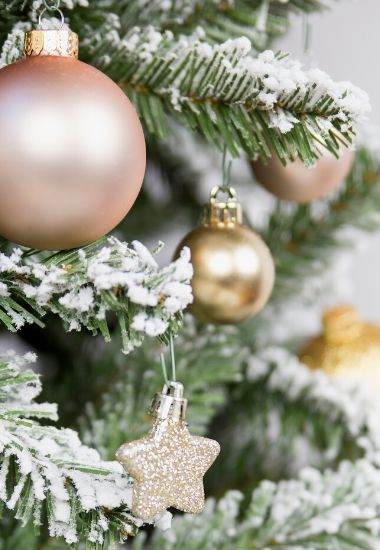 1. Christian Christmas Carols
Christian Christmas carols tell the story of the birth of Jesus and the joy He brings to the world through song. To keep Christ in Christmas, Christmas carols should include Christian carols.
I don't mean that you and your children cannot enjoy Rudolph the Red-Nosed Reindeer and Jingle Bells, but Christmas songs that do not include the Christmas story and Christmas message of the birth of Jesus shouldn't be the only Christmas songs we sing we sing each year.
Christian Christmas carols are a wonderful way to tell the Christmas story to your kids. Share the spirit of Christmas with Christian Christmas carols.
2. Jesse Tree
A Jesse tree reminds us that Jesus is a descendant of David in the Old Testament. A Jesse Tree remembers the lineage of David. Ornaments hung on a Jesse tree tell the story of Jesus from Creation to his birth. Click here to get your own Jesse tree ornaments.
3. Nativity Scene
The Nativity Scene shows the birth of Jesus in a manger with the the shepherds visiting. A Nativity scene is a perfect way to show others the story of Jesus. When you have a Nativity on display, you can tell the whole story of Jesus to your children, your family, and your guests.
Click here to choose a beautiful Nativity set for your home.
4. Gift Giving
At the first Christmas, when the 3 wise men learned of the birth of Jesus, they brought gifts to Jesus of gold, frankincense, and myrrh. We continue the tradition of giving gifts at Christmas.
Gift-giving takes the focus off of us and allows us to be a blessing to others. Sharing the story of Jesus is the greatest gift we can give.
5. Advent Calendar/Daily Bible Readings
We keep the focus on Jesus and Christmas by telling the Christmas story and reading passages from the Bible about the birth of Jesus.
Advent calendars are a wonderful way to share these faith-based readings with our children.
You could use a daily Bible reading plan like Joy to the World, a 30-day Christmas Bible reading plan with journaling pages. This journal is perfect for personal use or reading and discussing each Bible passage together as a family.
6. Lighting Candles
Jesus is the light of the world. When we light candles at Christmas we are remembering and celebrating the light Jesus brought to a dark world.
From the beautiful glow of candles or lights on the tree, we are reminded of the peace and hope that Jesus brought to the world.
---
7. Evergreen Trees
We probably don't think about it often, but even evergreen Christmas trees are an important part of the Christmas story. With Jesus, we have eternal life. The evergreen tree reminds us of eternal life in Jesus.
8. Read the Christmas Story
Growing up, we always read the Christmas story from Luke 2 on Christmas Eve before any gifts were opened.
It only takes a few minutes to read the Christmas story and spend time talking about how Jesus came and changed the world.
9. Christmas Cookies
We can share the Christmas story by sharing Christmas cookies. When my youngest daughter was little she loved the book, The Legend of the Christmas Cookie: Sharing the True Meaning of Christmas. This book tells of why we share Christmas cookies.
When we bake Christmas cookies shaped like angels, trumpets, and a manager, we have the opportunity to share the story of Jesus by sharing these cookies.
10. Candy Canes
Sweet red and white striped candy canes are a simple, but profound Christmas decorations that remind us of the story of Jesus and his death on the cross. A Christmas candy has an important message. We can all tell the candy cane story and share the story of Jesus.
We are fortunate to have so many traditions that allow us to keep Christ in Christmas.
What Christmas traditions does your family have that keep Christ in Christmas?
PIN IT FOR LATER: