The 2022-2023 DaySpring Planners are a beautiful and inspiring collection of Christian planners for moms. These Christian planners are bright, colorful, and inspiring with pretty designs and encouraging quotes and Bible verses throughout.
Note: This post includes affiliate links. If you make a purchase, I will receive a small commission at no additional cost to you. Read my full disclosure policy here. I would like to thank the DaySpring team for sharing these planners with me. All opinions in this post are my own.
Let's take a look inside the DaySpring Planner.
Why You'll Love this Planner
Size
The DaySpring planners are available in 7″X9″ and 8″x10″ size and about 1″ thick. I find these sizes works well on my desk and it also fit nicely in a medium to large purse or tote bag. If you like to take your planner with you, these planners a good size.
Colors
DaySpring Planners are colorful and inspiring.
Katygirl design has a different design at the top of each page so you will never get bored with this planner. The Studio 71 Collection has a weekly Bible verse and monthly devotional.
Each month also starts with an encouraging quote on a beautiful design you could also be used as wall art. Some designs include a monthly devotional (Studio 71 – He who promised is faithful pictured above).
Plus, some planners have several pages of stickers so you can decorate and design your planner, your way (Katygirl planner pictured below).
Design & Layout
The layout of the DaySpring Planners are a weekly planner with horizontal formatting for each day.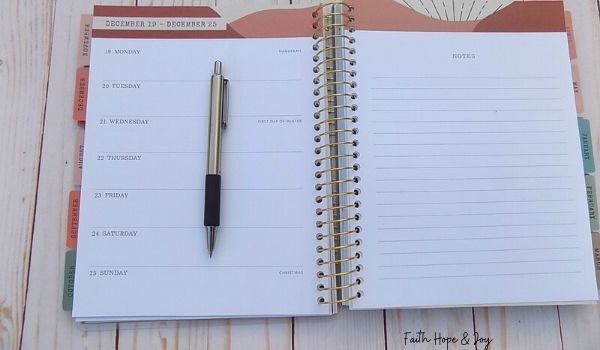 If you prefer a section for appointments and a to-do list, check out the Studio 71 designs.
Plus, all DaySpring planners are 18-month planners. The new planners cover from July 2022 to December 2023. You will likely find 18-month planners especially helpful for long-range planning.
All DaySpring planners include a two-sided pocket in the back to keep your important papers organized.
Encouragement
Throughout this pretty Christian planner, you will find it's filled with encouragement. Colorful full-page quotes and a Bible verse on the monthly layouts (although I would love a Bible verse on every weekly layout).
Each day as you use this planner, you will find ways to be encouraged, find your purpose, and focus on what matters.
Accessories…
I always say what is a planner without great accessories.
Here are a few of my favorite planner accessories you can add to your DaySpring planner.
Planner Pocket Inserts – who doesn't need extra pockets to keep your planner organized!
Planner memo pads and sticky notes
Undated weekly desktop planner – great for a quick at-a-glance to-do list. These planners have stickers, too!
Illustrated Faith – Journal it Pens – Bright & Colorful pens
God's Word Binder clips
Pick your favorite DaySpring planner accessories here.
What I might change…
Overall, the DaySpring planner is a beautiful planner you will enjoy using. But there are a few things I would change.
The planner has a spiral ring which I like, but I think the ring needs to be a little thicker to give the planner a little more sturdiness.
The paperweight isn't as thick as I prefer. But I mostly use pens and pencils in my planner, so this paperweight is good. When I tried to use markers I noticed some ink bleed through. But if you take your planner with you everywhere, you will appreciate the lighter paperweight because the planner isn't as heavy.
This is an 18-month planner, and it wasn't as thick as other 12-month planners. Again, this size/weight works, if you don't like your planner too bulky.
Is the DaySpring Planner right for you?
When choosing a new planner each year, this really is the question that matters most.
Is this planner right for you? Will you use it? Do you like the design? Will it help you be more organized?
The DaySpring Planner is great for someone that likes a weekly horizontal layout for your planner. There is plenty of space for daily activities and a to-do list.
It's a bright and encouraging planner with Bible verses and quotes throughout.
PIN IT FOR LATER: