I'm always looking for good homeschool resources. New curriculum to try, new organization tools, and new materials that will interest my kids and get them motivated to learn.
Here's a list of my top homeschool resources to keep you and your kids on track this school year.
Note: This post includes affiliate links. If you make a purchase through one of these links, I may receive a small commission at no additional cost to you. Please read my full disclosure policy here.
As you look through these resources, I do recommend you keep it simple. Homeschooling isn't hard, but you can make it overwhelming if you try to do too much.
Homeschool Resources
Homeschool Planner
For our homeschool, a student planner for each of my children is a must. I'll give them weekly assignments for each subject and check each day to be sure they are completing them. Our homeschool planners keep us on target each week.
Erin Condren Academic Planners
The Erin Condren Academic planners are weekly planners with space each day for assignments. There are about 8 lines each day and the sections are divided so you can have the subject, the assignment, and space to check off that it's done.
This is the planner I'm using for the kids this year (and last year).
Erin Condren Teacher Planners
I also like to use the Erin Condren Teacher Planners for homeschooling. This planner is designed so you can write the subjects across the top (or hours of the day) and just write the assignments each day. I used this planner for homeschooling last year with my 2 older kids. It's another one of my favorites for homeschooling.
You can read here how I use the Erin Condren Teacher planner as a homeschool planner.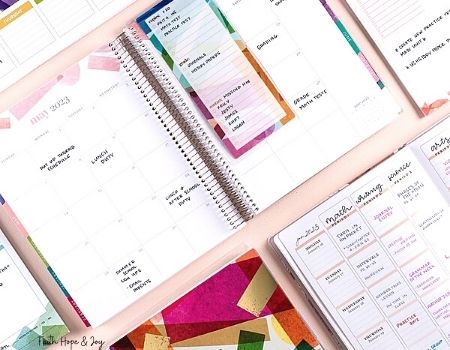 DaySpring Planners
DaySpring offers planners in a few different formats. Some have a devotion each month and weekly Bible verses. They are all encouraging in your faith. These planners would be ideal for a mom that likes a big picture plan for school, but might not write every single assignment, every day.
DaySpring Planners would also be good for high school students to start managing their own work and tracking projects.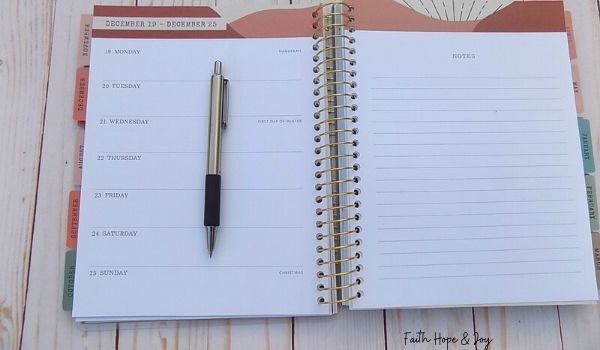 MomAgenda
You probably don't think of MomAgenda when you think of school planners, but they have a great layout for tracking school assignments. You can write the subjects down the side and daily assignments going across the page.
Notebooks
Notebooks are essential for school they help with summarizing materials read or watched, copy work, working on daily assignments, and practicing writing skills.
Erin Condren Notebooks
Erin Condren offers 3 styles of notebooks including a productivity notebook (with a "to-do" list on each page, a traditional notebook, and a bullet journal/dot notebook). They also offer A5-sized notebooks.
5 Star Advance 3 Subject Notebook
Mead offers a durable 3-subject notebook that also includes clear pockets to keep up with assignments. This notebook would be good for students that attend classes with the Homeschool group or anyone that likes to keep their notes together.
Curriculum
For homeschool curricula from the best publishers, I love to use ChristianBook.com. They have textbooks for all ages/grades and from my favorite publishers including Abeka, Bob Jones, Generations, Masterbooks, and so many more. They also have competitive prices.
Orders ship quickly with Christianbook.com. They also have an easy return policy.
Unit Studies
Books are great for learning, but if you want to mix it up unit studies are a great alternative. Unitstudy.com has various unit studies in geography, history, science, and more.
Online Classes
If you are looking for an online curriculum, AlphaOmega offers a comprehensive curriculum from a Christian worldview.
Homeschool Organization
My favorite organization resource is a rolling utility cart. I purchased a cart like this one last year for my youngest daughter to keep all her books and supplies together. She has pens, pencils, and supplies on the top tier, and books and notebooks on the two lower tiers. When she is done for the day, she just puts her books and tools away and can roll this cart out of the way.
These carts are also great for craft and art supplies.
Local Homeschool Groups
Most areas have a local homeschool group or co-op. Homeschool groups are super supportive. They usually offer a variety of classes you can sign your kids up for. They are a great way to socialize, develop special interests, and participate in sports.
I joined the homeschool groups for my kids and participated in classes when it was a subject that I was not an expert in like algebra or geometry and for special interest classes. I'm lucky we live in an area with a large number of homeschoolers to the local groups offer many different classes.
These are just a few of the many resources available to homeschoolers.